Most states have laws giving religious exemptions to testing and screening of children. Federal law requires doctors treating children on Medicaid or CHIP to perform several tests and screenings on the children, yet federal law also allows states to offer religious exemptions. 42 U.S.C.A. §1396 ff
CHILD USA's research into these religious exemption laws reveals the exigency for policy that protects the health and safety of children.
If a test or screening is beneficial enough that policymakers require it for most children, all children should have its benefit, regardless of the religious beliefs of their parents.
Resources and related documents:
By Marci Hamilton | New York Daily News | May 09, 2019 There is no constitutional right to a religious exemption to childhood vaccinations. It is a permissive statutory exemption over which lawmakers have plenary power.
Marci Hamilton | May 9, 2018
An article on how the statutory guise of religious freedom is being used to undermine the First Amendment.
Marci Hamilton | April 29, 2019
An article on two reforms needed to make sure children receive the vaccinations they are entitled to and to provide them the agency to ensure their own well being.
Rita Swan | September 1, 2018
An article
A statement of CHILD USA's opposition to all religious exemptions to health and safety laws for children. Children should not be deprived of protection on the basis of the religious beliefs of their parents.
A memo by Associate Director for the Network for Public Health Law draws and explains a survey chart that looks at state lead testing policies for children not enrolled in Medicaid.
Mathew Swinburne, JD | May 9, 2018
A chart compiled by the Network for Public Health Law revealing each state's Lead Testing requirements and waivers for children not enrolled in Medicaid.
Network for Public Health Law | Current as of May 2018
A chart summarizing the Metabolic Screening Policy of each of the 50 states and its exemptions.
Rita Swan | September 1, 2018
PLOS Medicine journal examination of nonmedical exemptions in states and counties, examining the growing anti-vaccination movement in urban areas and the corresponding consequences.
Jacqueline K. Olive, et al. | June 12, 2018
Religious Exemptions Pertaining to Crimes Against Children
Religious Exemptions to Medical Care of Sick Children - Fall 2017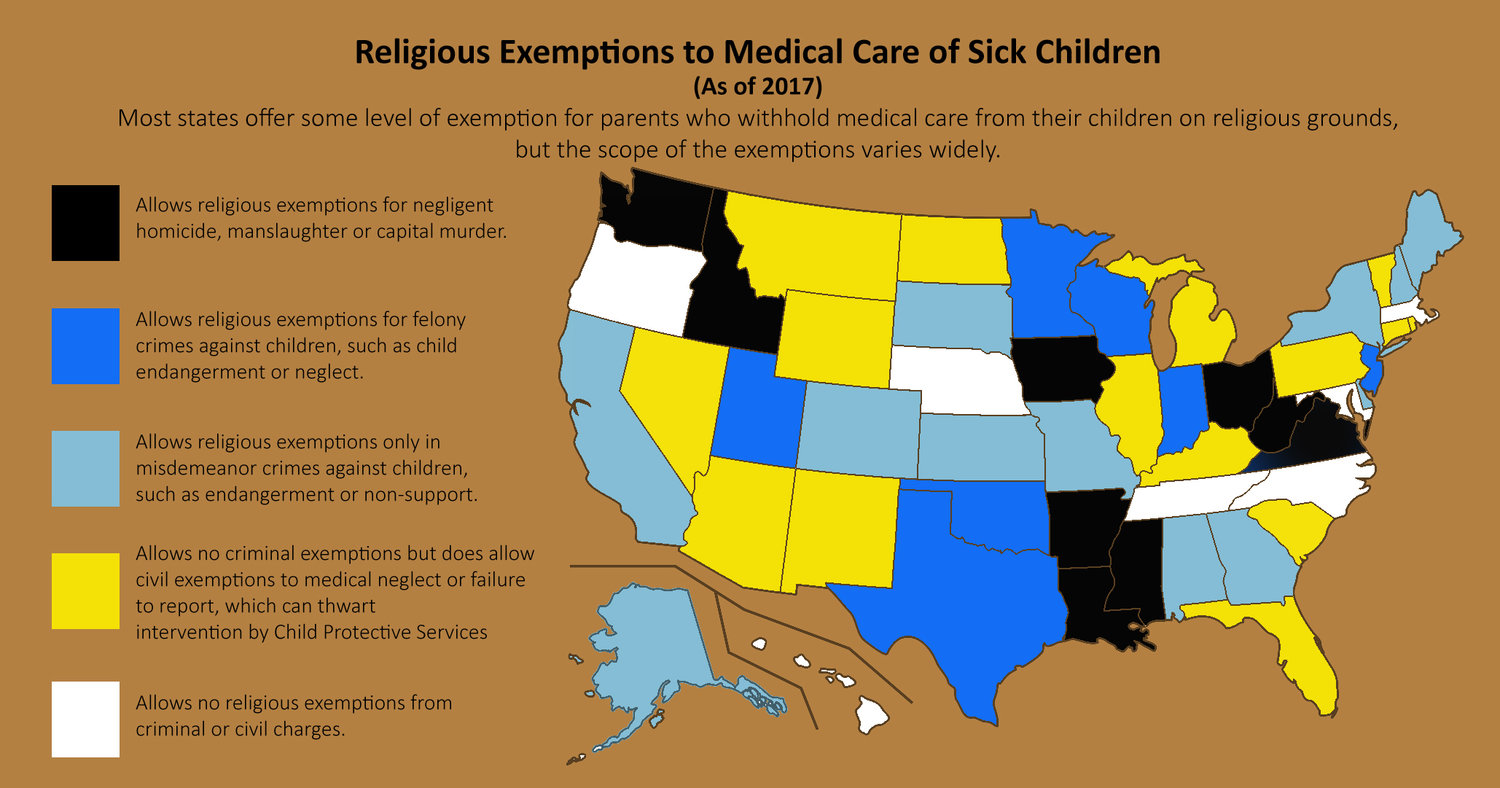 IN THE NEWS
Michigan Child's Death Puts Spotlight On Clash Between Medicine and Religion
Samantha Raphelson | August 31, 2018
"Seth Welch and his wife, Tatiana Fusari, both 27, were charged with felony murder and first-degree child abuse after their daughter, Mary, died earlier this month from malnutrition and dehydration, an autopsy revealed. The parents said they didn't seek medical help for their daughter because of their religious beliefs...
"Some religious groups, including Christian Scientists and the Idaho-based Followers of Christ, either recommend or mandate faith-based healing instead of traditional medicine. In 2016, a state government task force concluded that five children in Idaho died three years earlier because their parents did not seek medical treatment for them due to their religious beliefs. Studies in the 1980s and '90s have also documented measles outbreaks and high mortality rates among Christian Scientists.
"Since Idaho enacted a faith-based healing exemption in the 1970s, child advocates estimate more than 180 children have died or were stillborn in families that practiced a religion that shuns modern medicine."